P
Photo by David Bastianoni Team
How to plan a more Sustainable Wedding in Italy:
It is very important to be mindful of our environment and a wedding day can be full of waste and carbon footprint. We are all getting more and more conscious of sustainability nowadays, so many couples could worry about this issue.
You are not alone. We totally understand where you are coming from, but it doesn't mean that you have to skip your party or avoid every detail, but try to consider more eco friendly options, with small changes that can make a big impact overall and you will be able to have a sustainable wedding.
Try these small changes to be good to the environment on your wedding day, just like any other day of your life.
If you have an eco-friendly lifestyle it is very important that you and your partner have a sustainable wedding.
Start by avoiding excesses waste and unnecessary items, prioritize what's important for you. You'll be able to cut down on waste and have way more sustainable wedding.
As much as we love details, we know it's important for everyone to get real about what's really needed to them.
The guest list will also have an impact. It may seem obvious but the smaller the guest list, the less waste you will produce.
Wedding vendors, just like every human being, are becoming more environmentally conscious and try to achieve a more sustainable wedding.
Starting from the beginning make sure you print your stationery on recycled paper or on seed paper. Seed paper is biodegradable and it sprouts into flowers when planted in soil. Other sustainable alternatives are reused/reusable materials like fabrics or glass.
There are also many companies that give back something to the environment while shopping for a stationery, like planting a tree.
Opt for online save-the-dates and wedding invitations if possible, to minimize the paper waste.
Wooden welcome sign are also a great style touch that has low impact.
Photos by Erica Brenci
Photo by Gabriele Fani Photographer
A central aspect for sustainable wedding is to choose a venue that takes sustainability just as seriously as you do.
A venue that puts sustainability at the forefront of everything they do will make things much easier, nonetheless if they are eco-friendly, they may have experience with other sustainable vendors, and it would be a great start.
Many beautiful venues in Italy are farm houses, and many hotels are going green and greener. Many of them have an internal or at least local farm to provide farm to fork fresh ingredients.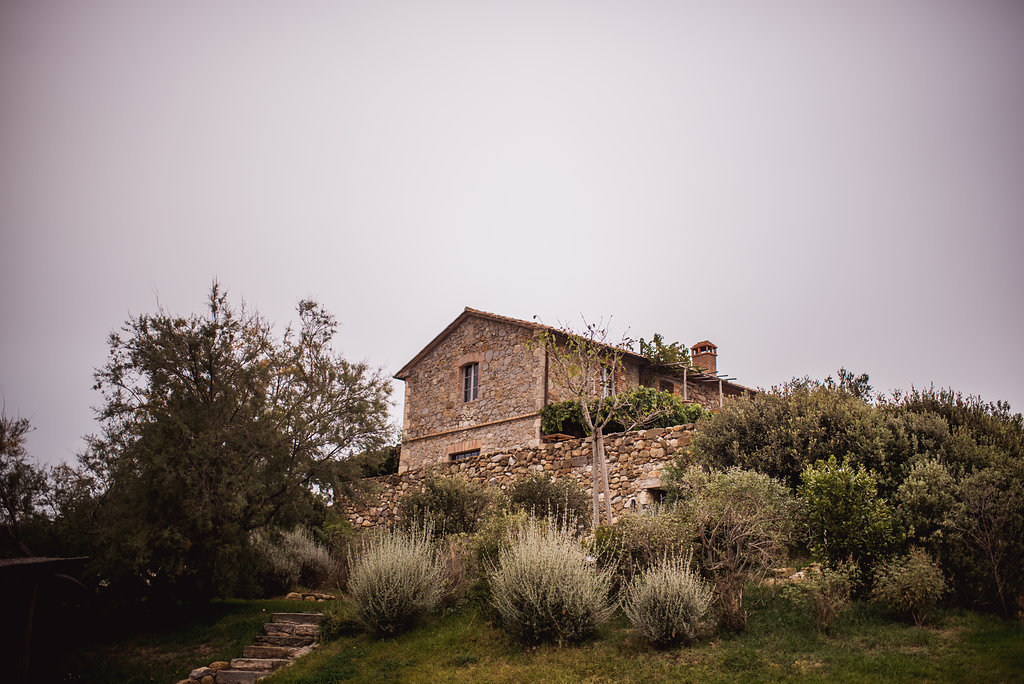 Photo by Roberto Panciatici
Just like many other items also food should be as local as possible for a lower carbon-footprint, using in season products.
Unfortunately food waste is around the corner, as Italian laws do not allow caterers to give off leftovers.
While a buffet may seem like the easiest choice it would also lead to a lot of food waste.
Have a seated dinner instead and ask your caterer to serve finger food from trays, during cocktail hour, it will also look more chic and prevent guests from going full before dinner time.
Consider serving vegetarian and vegan food. If you care about the environment you surely already know that plant-based meals consume fewer resources than animal products, and are much more from farm to fork. Food will still be delicious and memorable, plus eco-friendly.
Another good deed is to try to avoid plastic and paper waste whenever you can. Many venues will require plastic glasses during the party, for safety issues. You can talk them in to use reusable plastic glasses, either purchased by you or by them, and ask your guests to keep their own glass. It will make much difference to have 1 glass per person, rather than 5 wasted plastic glasses. Same goes for glasses during the reception. The less glasses to washes, the more sustainable it will be. Single-use is not good for the environment.
This can be a chance to give your guests a name tag to put on their glass, that can also work as an escort cards, to tell them where they are seated at the dinner table, or having a calligrapher writing directly on each glass with a glass marker. You could also purchase the glasses to begin with, so it could turn int to a nice favor for guests to bring home.
Ask your guests and wedding staff to separates out all recyclables.
For a sustainable wedding make conscious decisions to reduce waste, like skipping the aisle runner or saving on energy usage taking advantage of sunlight as much as possible.
Centerpieces with fresh flowers look beautiful,  but freshly cut flowers are not so sustainable for the environment.
There are fantastic eco alternatives if you want a sustainable wedding such as potted plants, like herbs, or dried flowers, that are so much on trend at the moment, you won't have to sacrifice your wedding style. If you go with cut flowers, choose seasonal blooms, possibly grown locally and try to use them as many times as possible, putting them indoor whenever possible, to keep them fresh for longer.
Ask to your florist to avoid foam being extremely harmful to the environment, as it is not biodegradable and is full of toxic chemicals like formaldehyde and carbon black. The best way to avoid it is to opt for more organic centerpieces or potted plants, as mentioned before. Consider that pot plants don't need to be in the typical cotto vase, they can also be planted in glass like a terrarium, or ceramic or recycled metal jars.
Photos by Lovefolio
Use soy wax candles in many sizes instead of tea lights, that come with a plastic or metal base, and consider donating them to the venue instead of trashing them. Recycled glass jars and bottles will also look great as candle holders.Turn your ceremony arch into a photo booth or cake cut backdrop, or put your bridal party's bouquets in vases to decor your wedding cake table or even centerpieces, if you have enough bridesmaids.
Many florists work with local farms that grow flowers or do it themselves, in order to reduce the carbon footprint due to transportation.
Remember you can gift them to your wedding service staff or guests so they get to be used again, and don't go to waste right after the cake cut.
If you want to skip centerpiece fresh flowers altogether, you canl still have your wedding looking elegant and put-together, using soy wax candles in different shaeds, matching your color palette and creating levels in the decor, and fluffy pampas grass or dried palms. Dried botanicals can have a big visual impact too, great if you're going for an edgy mood or romantic fairy tale look.
Photo by Angelica Braccini
Don't forget that some ceremony decorations can be reused to decor tables during the reception.
Another nice thing to do it to ask your florist to help with drying your bouquet flowers, and have them properly set up together in a glass frame, in order to keep it as memory and use it as decoration back home.
Consider adding a playful reusable elements to your big day. Patterned, embroidered or bold colored napkins can be a great way to show your personal style in a safe way. They can become a memorable part of your design as well as a nice custom favor to bring home after the dinner.
Throwing confetti, being it raw rice or paper or plastic, at the end of the ceremony is not an environmentally conscious way to celebrate your union, go for dried flower and leaves instead, our favorites include lavender, rose petals, leaves.
Photo by Erica Brenci
Balloons and floating lanterns are not sustainable either so if you want a sustainable wedding make sure to skip them.
Wearing a wedding gown that's been passed on to you by family or friends is not only very sweet and meaningful, but it is a great way to avoid the "cloth consumption" that comes with new dress. You can also buy a pre-loved wedding dress and ask to your tailor to fix it properly. There are anyway many designers who focus on ethical production and eco-friendly fabrics.
Sometimes the pressure to have the picture-perfect day, distracts from the effect that weddings have on the environment.
Having a sustainable wedding is not about making everything perfectly eco-friendly though, it is more about being thoughtful and intentional throughout the whole planning process, not to reduce costs but to reduce the use of non-renewable resources. it will surely make you feel better to know that you were able to have a sustainable wedding.