Italian Wedding Photographers and Videographers
The task of the Photographer and of the Videographer during the wedding is to catch and frame the details, putting the accent on details that you probably won't even notice because of the excitement of the day.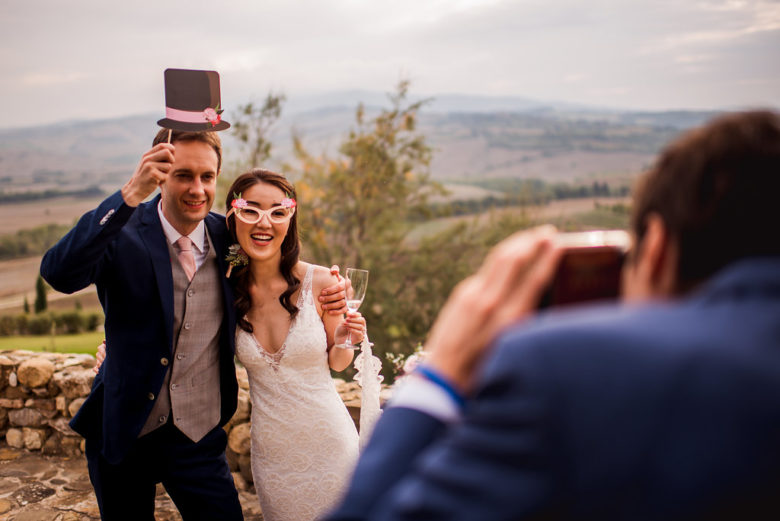 We believe you should choose a Wedding Photographer who can tell the story of your day and capture the feelings and experiences. You should be able to get a sense of this by reviewing his/her previous work. Italy, being one of the main spots for Destination weddings, can offer a wide variety of Italian Wedding photographers and videographers, who are very capable and professional in this field.
You can choose between different styles, but the informal, relaxed style is now the most popular, and you will see that Italian wedding photographers on their websites will display a lot of genuine pictures and very few posed shots. Reportage Style usually includes a session during the preparation of the Bride, the Arrival, the Ceremony, the Cocktail hour, some shots during the Reception and photos of the Wedding cake and of the First Dance. We strongly suggest the couple write down a list of shots they would like to have, especially if including guests, to give to the photographer, so as to make it easier for them to organise the shots.
Besides the Photo Session it is common to create a Wedding Video. This can be a simple recording of the day or it can be more involved with interviews of the newlyweds and messages from the guests. The videographer will film all the preparations up until the end of the reception, putting it together with music and graphics, chosen by the spouses, afterwards. If you are thinking of something fun and not so traditional, we suggest adding in a Photo Booth, maybe with Props and accessories.
It will definitely lead to lots of pictures of people having a good time, that you can share if you please even on Social networks.