T
This lovely couple chose Florence as the place to host this special same-sex wedding in Italy, surrounded by their most beloved friends and family members, that flew in from all over the world.  Many couples dream of getting married in the heart of Florence, and Rodni and Tim style and wedding size was perfect for that.
When they got in touch with us they already had pretty clear ideas of what they expected, so it was only to us to help them make their dream come true.
Most of them stayed in Grand Hotel Cavour, which is a historical and cosmopolite hotel, right in between Piazza della Signoria and the Duomo, that was also the reception location.
On the wedding day the couple got ready together in their suite, that has a terrace overlooking Palazzo Vecchio. A great way to start the day.
Their outfit were incredibly stylish and matching, not one detail was left out.Their Gucci shoes were a very special touch too, as Gucci luxury fashion house was founded in Florence in 1921. This same-sex wedding in Italy couldn't be more chic.The ceremony was held in Palazzo Borghese, that is 150 meters from Grand Hotel Cavour, so the guests could reach it by walk.
Palazzo Borghese is an antique neoclassical building that preserves unique architectural elements in its various rooms, that are characterized by sumptuous furnishings and a fabulous atmosphere. The imposing honour staircase leads to the noble floor. The heart of the building is formed by the Mirror Room and the Monumental Gallery, which is a true architectural and artistic jewel. When we understood what they were looking for for their same-sex wedding in Italy we immediately decided to show them this venue.
Rodni and Tim fell in love with it at first sight and confirmed within the same day. The guests were welcomed before the ceremony by live string trio music, drinks and canapes, while the couple was taking a special photo session in the streets of Florence.When the couple arrived the ceremony started in the amazing Mirror Room, a tiny Versailles, that for the occasion was decorated with candles and petals.
The ceremony was very sweet and touching, but also fun and full of personality, just like these two lovebirds.
Once the ceremony was over guests could enjoy some more prosecco and fingerfood, and everyone decided to have a couple more photos together by the Duomo, before heading back to the aperitif in Grand Hotel Cavour.The aperitif of this same-sex wedding in Italy took place on the Divina Terrazza, with a 360 degrees view on all the most famous buildings and squares of Florence city center, and featuring a very special closeup view of the Duomo Cathedral. Of course everyone was taking pictures and having fun with the photobooth corner, while sipping cocktails and, needless to say, tasting yummy italian food.
Right after sunset all the guests moved to the groundfloor dining hall, where a long imperial table decorated with flowy white flowers, candles, chic gold foliage on napkins, lighted up the gloomy atmosphere, with gold on black handwritten placecards that helped guests find their seats in the long table.
Everything was absolutely in tune with the couple's elegant style, not to mention their dancing entrance and speeches that gave start to the reception of this same-sex wedding in Italy.
The sit down dinner was in fact informal and fun, just like the whole day was.
Many many speeches were given, by many of their beloved, and they of course brought laughs as well as tears of joy and commotion.After dinner the couple cut a black tiered cake with their gold monogram and then the wild party started and followed in the underground rooms where a private club was waiting for them.This wedding was clearly unforgettable and one of a kind.
Rodni and Tim love is one of the greatest we even witnessed.
The love they feel for each other is easy to see and feel looking at the pictures and video of that amazing day, make sure to take a look to this same-sex wedding in Italy.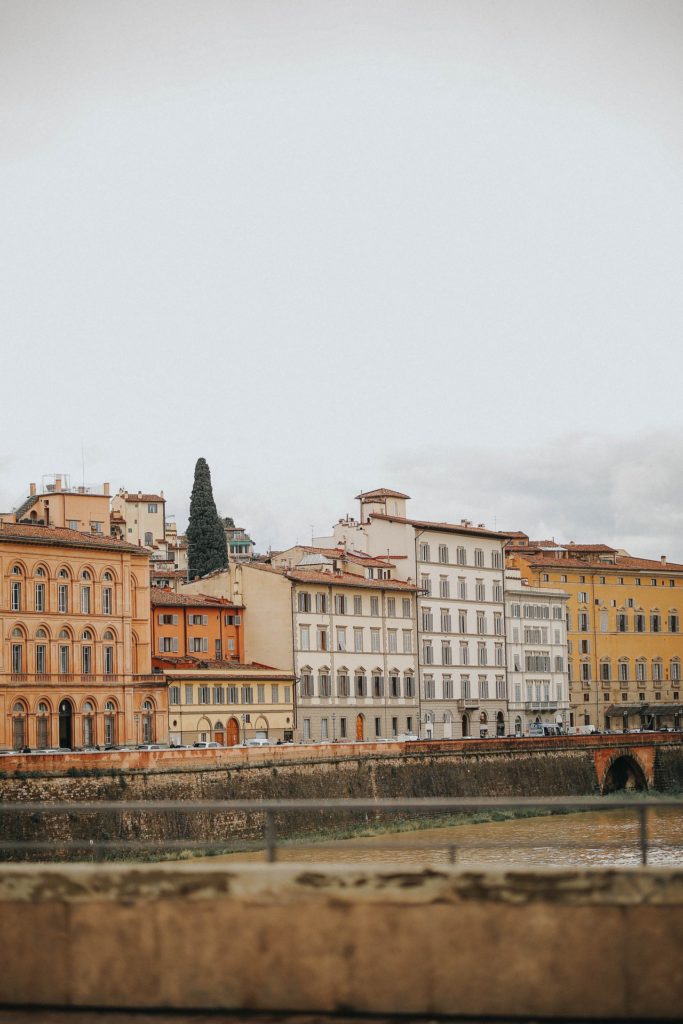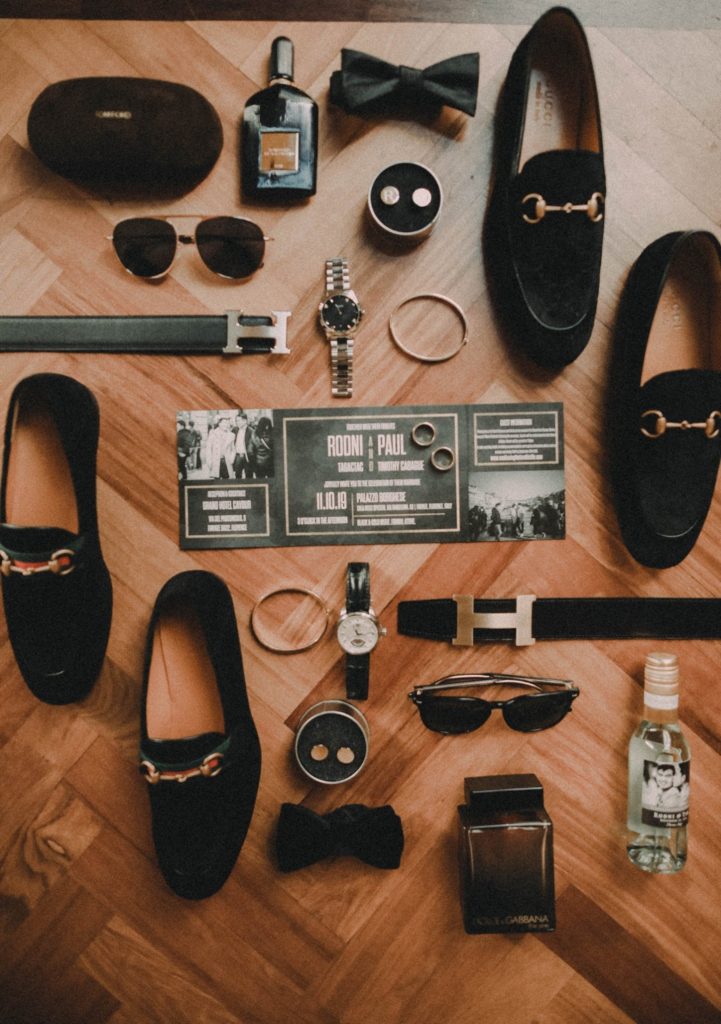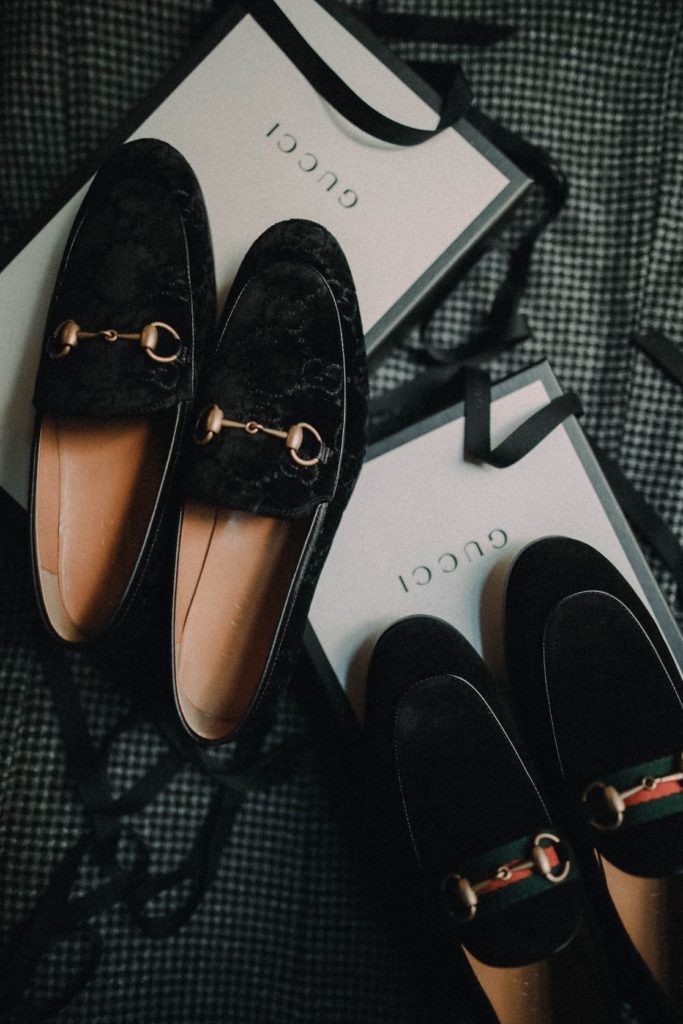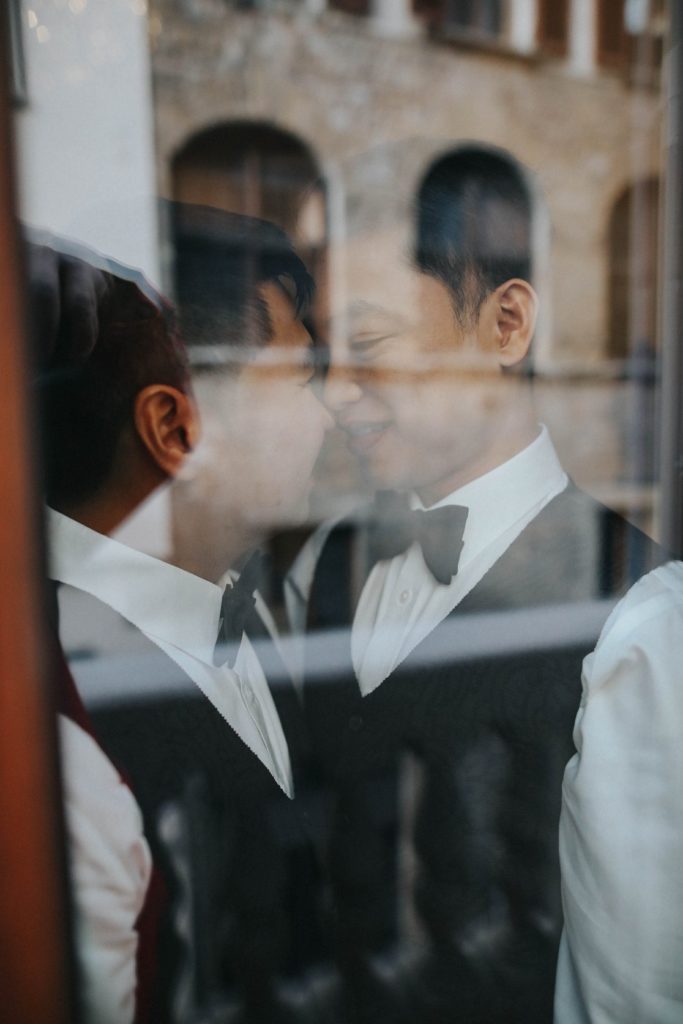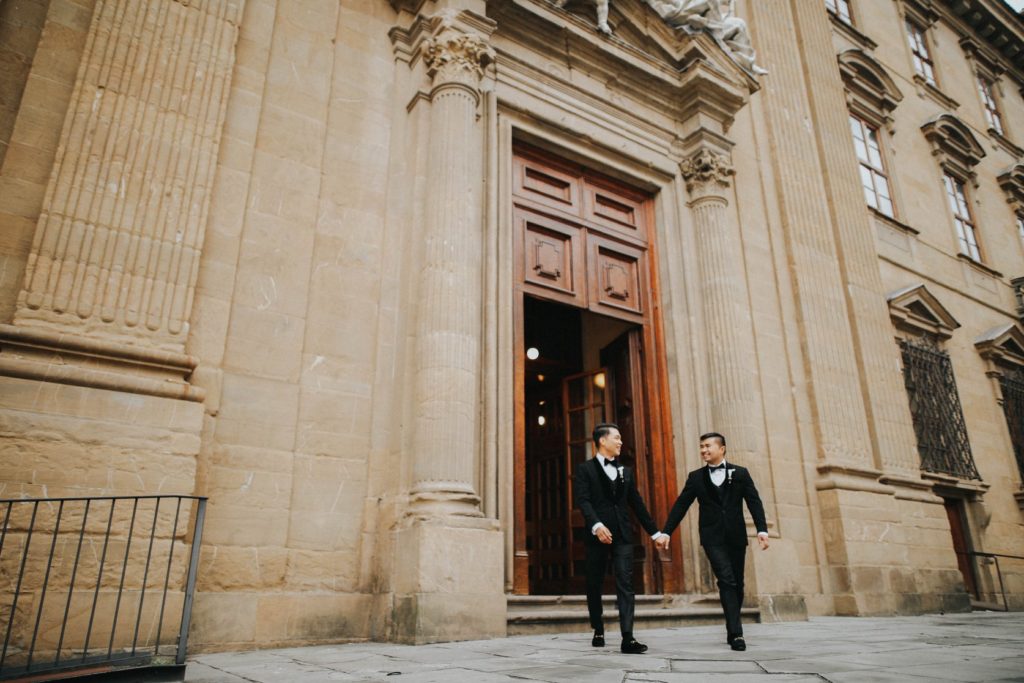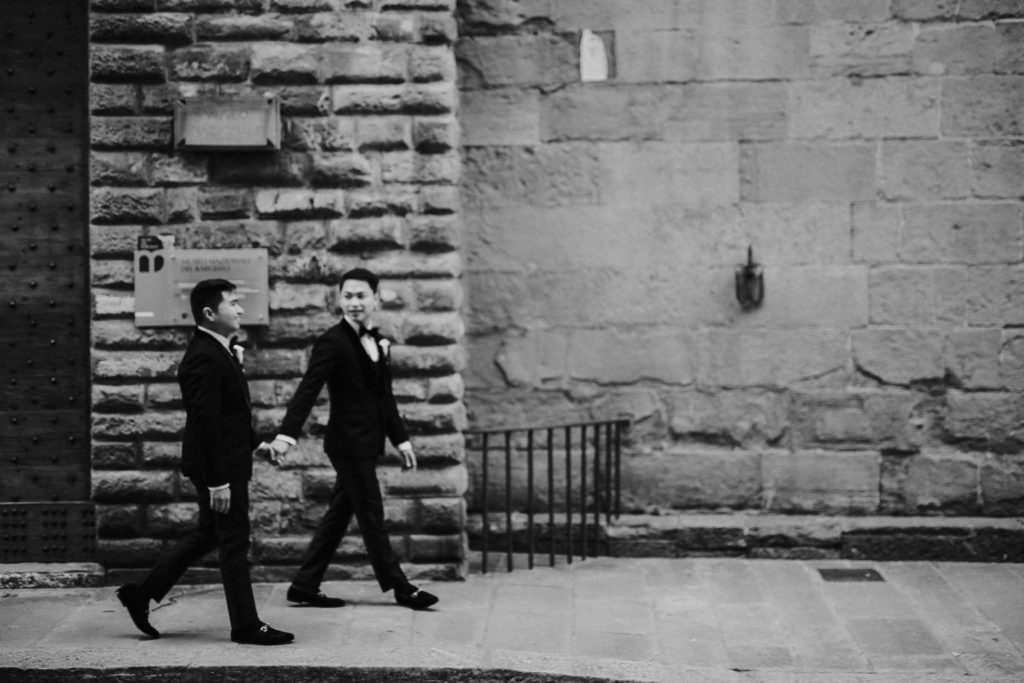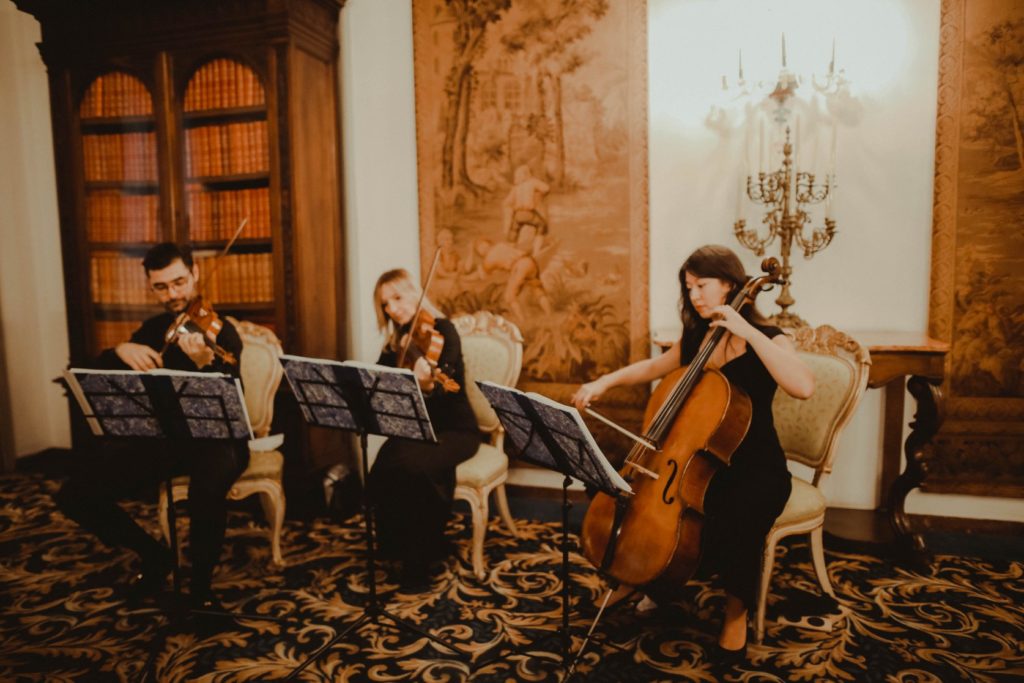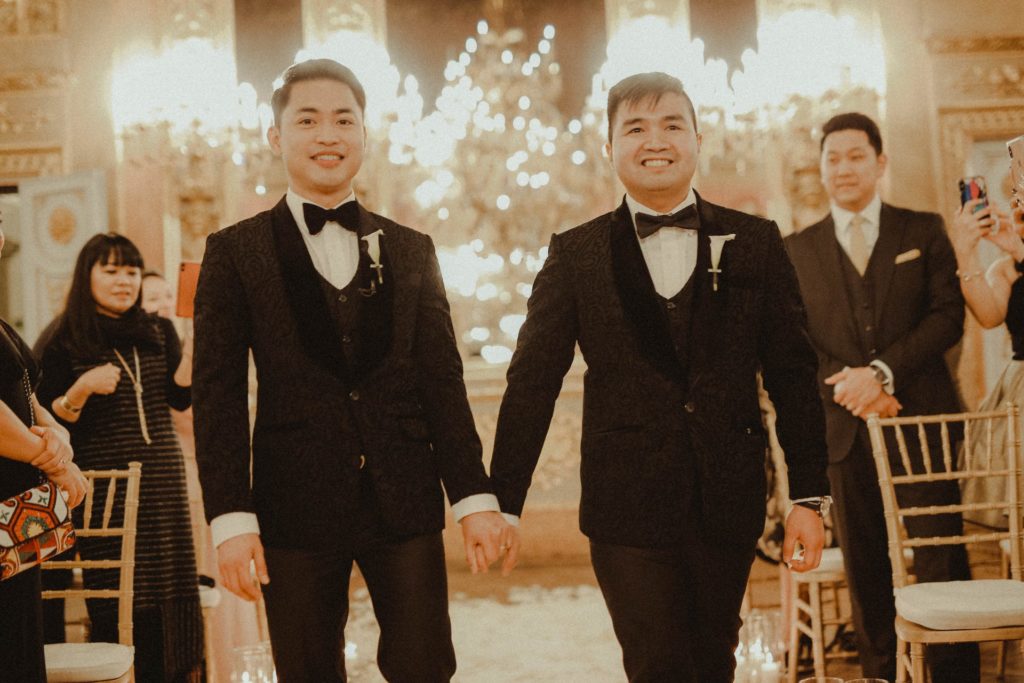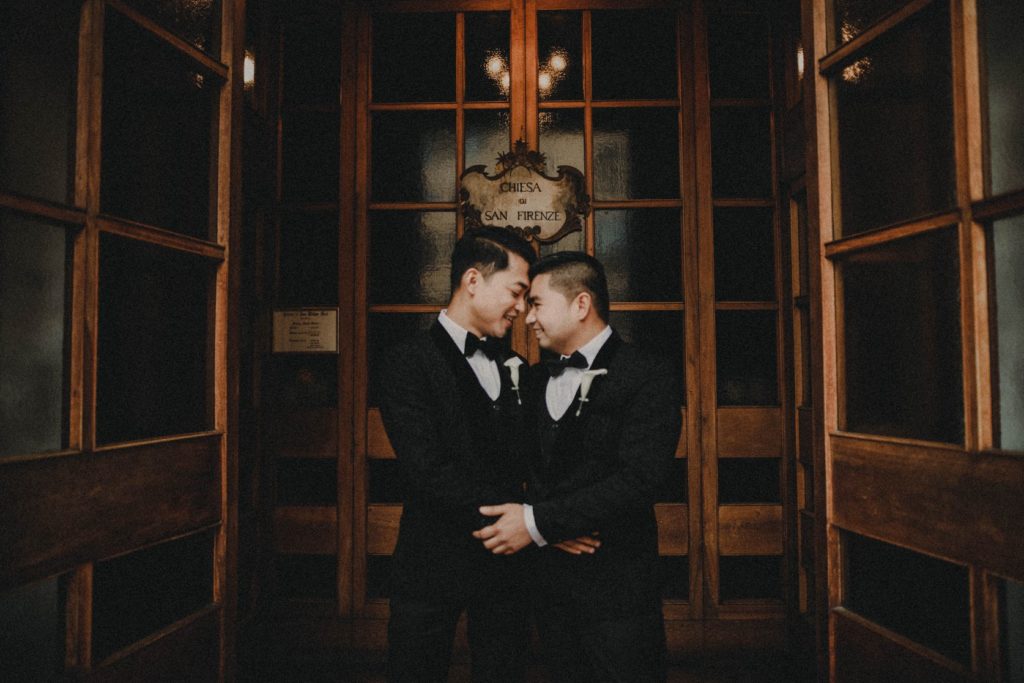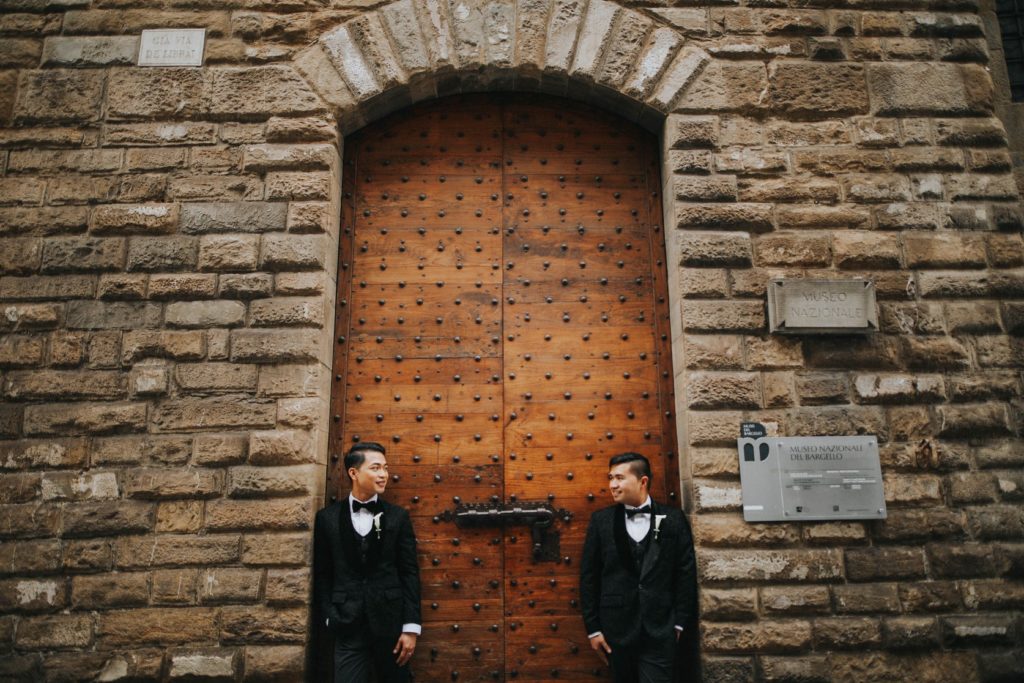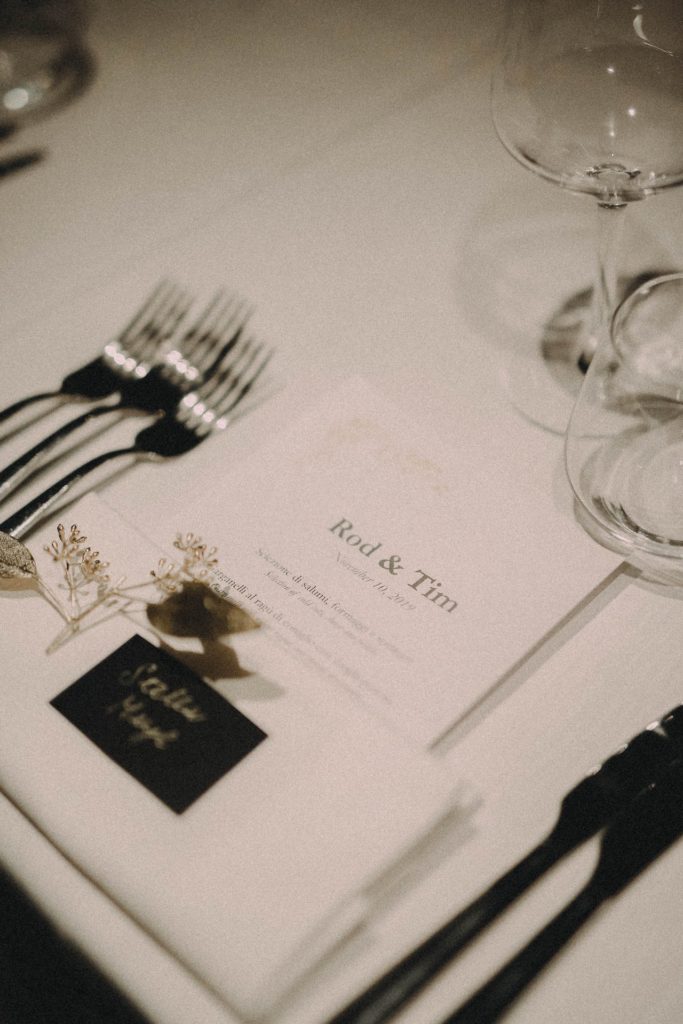 A stylish same-sex wedding in Italy, Dream Team:
Planning: Italian Wedding Designer
Getting Ready and Reception Venue: Hotel Cavour
Ceremony Venue: Palazzo Borghese
Flowers: Flowers Living
Photo: Dave Sabio 
Video:  Grooming Photo for Story of Us Studios
Music: Firenze Classica
Dj set: Roberto Palma Dj
Photobooth: La Machine
Suit Designer: Odelon Simpao